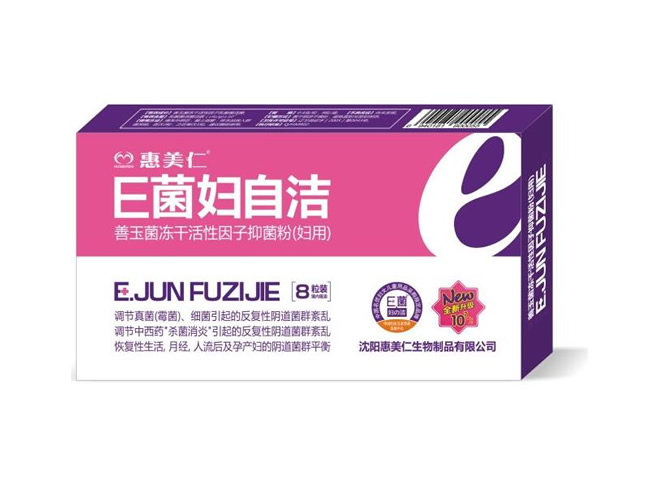 Add to Favorites
Share
Probiotic Female Adult Health Care
Payment

Origin

China Mainland

Minimum Order

5

Packing

Pieces
Product Detail
SPECIFICATION OF ACTIVE FREEZE-DRYING PROBIOTICS:


By directly adding a large amount of beneficial bacteria to the vagina, regulates the vaginal bacterial balance, builds the beneficial bacterial coating as a protective barrier, restores vaginal self-cleaning function, efficiently improves vaginal immunity, to attain the gold standard of women's health --- I°Vaginal Cleanliness (with the amount of beneficial bacteria more than 90%). It helps improve symptoms associated with vaginal inflammation, including itching, discharge and odor.

Product Name: E-JUN PROBIOTICS PLUS+ Capsules (For Gynecology)

Effective Components: Active Freeze-Drying Probiotics and Lactobacillus

Type and Property: Content is Ivory Powder

Effective Content: Total Amount of Active Lactobacillus (cfu/g) =107

Categories of Controlled and killed Microorganisms: This Product has Inhibiting Effect for Escherichia Coli, Candida Albicans and Staphylococcus Aureus.

Scopes of Application: Regulate the Recurrent Vaginal Bacterial Flora Disorder Caused by Fungi and Bacteria and also the Use of Antibiotics Repeatedly. Restore the Vaginal Bacterial Flora Balance after Sexual Life, Menstrual Period, Artificial Abortion and Pregnancy.

Methods of Application: For External Use, Do Not Swallow. - Use Warm Water to Clean the Vulva, Then Wear the Specific Plastic Fingerstall and Put Two Capsules into the Vagina Deeply At The First Time. Later, Use One Capsule per Night. Suggest to Use Before Sleeping. - If the Vulva Feels Uncomfortable, Mix One Capsule's Powder Contents (0.4g) with 1.0ml Clean Water Together, Then Directly Smear on the Vulva.

Matters Need Attention: Do Not Use Antibiotics with This Product Together. If Needs, can Use Separately with Different Time.

Side Effects: Not Found Yet

Dosage Form: Powder

Specs: 0.4g/Capsule, 8 Capsules/Box

Storage Method: Stay in Cool and Dry Place, Avoid Direct Sunlight, Keep the Product Sealed.

Period of Validity: 24 Months

Hygienic License Number: LWXZZ[2005]No.0043

Executive Standard: Q/HMR02

Enterprise Information: Japanese-owned Shenyang Hui Mei Ren Biological Products Co., Ltd.



4
YRS
Shenyang Huimeiren Biological Products Co.,Ltd
China
Favorites