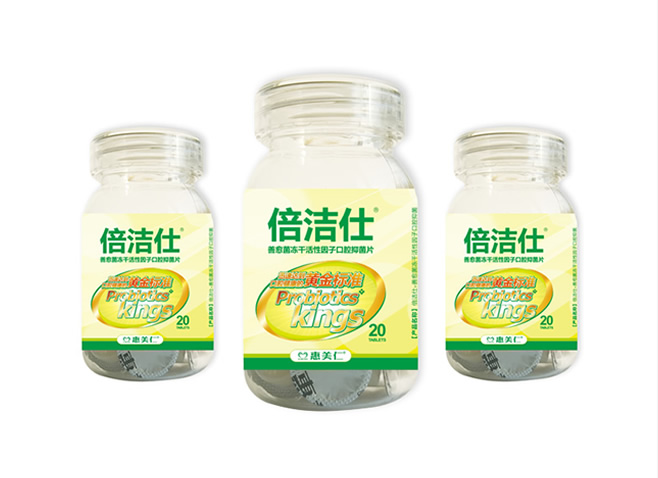 Add to Favorites
Share
Probiotics for Respiratory Tract
Payment

Origin

China Mainland

Minimum Order

5

Packing

Pieces
Product Detail
Probiotics Kings

Urban haze ; Particulate matter(PM); Dust weather; Smoking

By supplementing the oral cavity directly with plenty of Shan Yu Jun (probiotic), to regulate the balance of oral cavity micro-flora, establishes a viable and beneficial bacteria barrier, restores the self-cleaning function of oral cavity, and achieves the gold standard of oral health. It improves symptoms associated with sore throat, coughing, throat drying generated by smoking, urban haze, dust weather and PM2.5.

Bacteriostatic and improve teeth health, removing bad breath, refreshing throat.

Bei Jie Shi® Probiotics Kings

SHANYUJUN LYOPHILIZED ACTIVE FACTOR OF LIVE LACTOBACILLUS ORAL PROBIOTIC TABLETS

Quickly approach to the gold standard of oral health

Product name: Bei Jie Shi® Probiotics Kings SHAN YU JUN Active freeze-drying probiotic oral cavity live lactobacillus tablet

Brand name: Bei Jie Shi®Probiotics Kings

Active ingredients: Active freeze-drying probiotic live lactobacillus

Traits : The content is ivory or colorful tablet

Effective Content : The total amount of live lactobacillus (cfu/g) ?106

Category of Bacteriostat: to decrease Bacillus Coli, Candida Albicans and S.Aureus

Scope of Application: *To regulate the buccal disturbance caused by fungi (mold) and bacteria. *To regulate the micro-flora disturbance caused by both the traditional Chinese medicine and Western medicine used for "sterilization and anti inflammation".*Daily care for respiratory system

Usage and Dosage: 1.put the tablet in mouth, do not swallow it. 2. dissolve one tablet with 4.0ml clean water to turn into paste and apply it directly in the discomfort place.

Notice:Please avoid from using this product with other antibacterial products simultaneously due to the concern on the reduction of this product's effectiveness.

Adverse Reaction:Undiscovered

Dosage Form:Tablet

Specification:0.5g/tabIet, 20 tablets/can

Storage : In a dry and cool place, seal it away from light.

Validity: 24 months

Health License: LWXZZ (2013) No.0032

Executive Standard:Q/HMR10

Reminder: Please read instruction carefully, taking it under the guide of doctor

Shenyang Huimeiren Biological Products Co., Ltd.



4
YRS
Shenyang Huimeiren Biological Products Co.,Ltd
China
Favorites