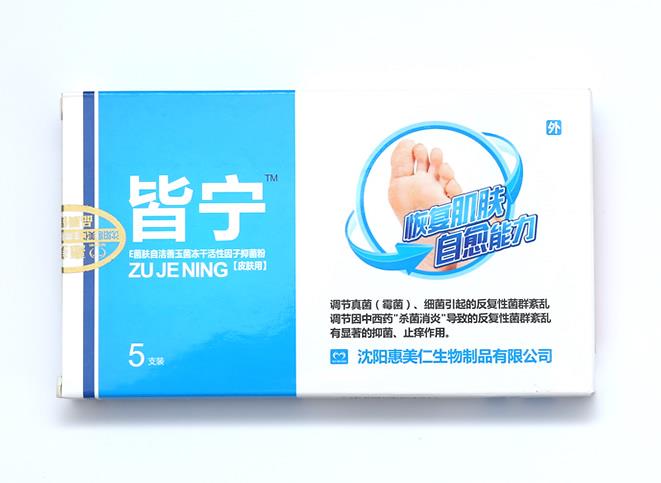 Add to Favorites
Share
Probiotics for Foot Issues
Payment

Origin

China Mainland

Minimum Order

5

Packing

Pieces
Product Detail
JEFEE

Shan Yu Jun Active freeze-drying probiotic(for skin)instruction

By supplementing foot directly with plenty of Shan Yu Jun (probiotic), to regulate the skin's micro-flora balance, establishes a viable and beneficial bacteria barrier, restores the skin's self-cleaning function, and achieves the gold standard of skin health cleanliness, antimicrobial itching.

Product Name: JEFEE Active Freeze-Drying Probiotic(for skin)

Brand Name: JEFEE

Active Ingredients: Active Freeze-Drying probiotics live lactobacillus

Traits: The content is ivory powder

Effective Content: The total amount of live lactobacillus (cfu/g)?106

Category of Bacteriostat: to decrease Colibacillus, Candida Albicans and S.Aureus.

Scope of Application: *To Regulate the repeated bacteria flora disturbance caused by pathogens such as fungi (mold) and bacteria. *To Regulate the repeated bacteria flora disturbance caused by both of the traditional Chinese medicine and Western medicine used for "sterilization and anti inflammation". * Restrain harmful bacteria, relieve itching discomfort.

Usage and Dosage: External use only; Do not take orally! 1.directly using it on the discomfort skin. 2. please dissolve 0.5g powder with 3.0ml clean water to turn into paste and apply it directly. using 1 tube at a time (2 tubes if necessary), 5 consecutive days is a period of treatment.

Matters Need Attention: Please avoid from using this product with other antibacterial products simultaneously due to the concern on the reduction of this product's effectiveness.

Adverse Reaction: Undiscovered

Dosage Form: powder

Specification: 0.45/pc, 5 pcs/box

Storage Condition: Store in a dry and cool place and seal it away from light.

Period of Validity: 24 months

Hygienic License Number: LWXZZ (2013) No.0032

Executive Standard: Q/HMR03

Manufacturer: Shenyang Huimeiren Biological Products Co.,Ltd.



4
YRS
Shenyang Huimeiren Biological Products Co.,Ltd
China
Favorites