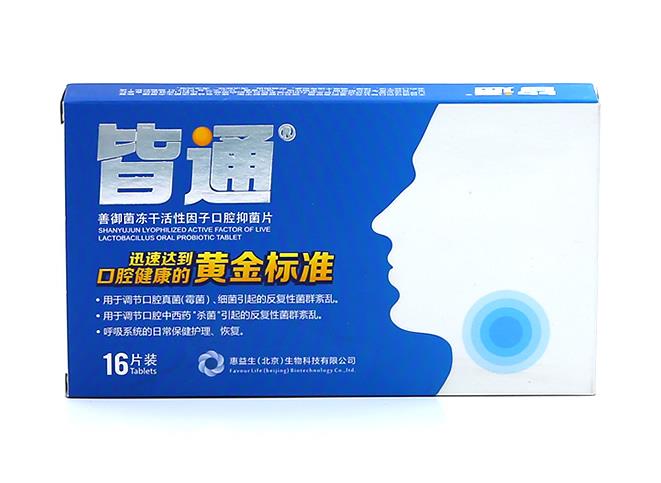 Add to Favorites
Share
Probiotics for Oral Care
Payment

Origin

China Mainland

Minimum Order

5

Packing

Pieces
Product Detail
JETONG

Active Freeze-Drying Probiotics Instruction (For Oral Cavity)

By directly adding a large amount of beneficial bacteria to oral cavity, regulates the bacterial floral balance of oral cavity, builds up active beneficial bacterial ecological protective barrier, restores the self-cleaning function of oral cavity. Efficiently improves the immunity of oral cavity and the defense capabilities of respiratory system itself, to attain the gold health standard of oral cavity, efficiently improves some symptoms such as dry feeling, cough and discomfort throat what are caused by long-term smoking (secondhand smoking environment), city smog, dust weather and PM 2.5 (fine particles). This product can control harmful bacteria, strengthens teeth, clean teeth, remove odor and clear throat.

Product Name: JETONG Active Freeze-Drying Probiotics (For Oral Cavity)

Brand Name: JETONG

Effective Components: Active Freeze-Drying Probiotics and Live Lactobacillus

Traits: The contents are ivory or colorful tablets.

Effective Content: Total Amount of Active Lactobacillus (cfu/g) =106

Categories of inhibited and killed Microorganisms: Escherichia Coli, Candida Albicans and Staphylococcus Aureus.

Scopes of Application:--- Regulating the Recurrent Bacterial Flora Disorder Caused by Fungi (Yeast) and Bacteria of the Oral Cavity and also the Use of Antibiotics Repeatedly. --- Daily Care and Maintaining for respiratory system.

Usage and Dosage: --- Directly put the tablet covering on the uncomfortable area of oral cavity --- Or grind this tablet (0.5g) to powder and mix with 4.0ml drinking water until the shape likes mud, directly smear on the uncomfortable area of oral cavity.

Matters Need Attention: - Do Not Use Antibiotics with This Product Together, otherwise will decrease the performance of product. If Needs, can Use Separately with Different Times.

Adverse Reaction: Not Found Yet

Dosage Form: Tablet

Specification: 0.5g/Tablet, 8 Tablets/Sheet, 16 Tablets/Box

Storage Condition: Stay in Cool and Dry Place, Avoid Direct Sunlight, Keep the Product Sealed.

Period of Validity: 24 Months

Hygienic License Number: LWXZZ[2016]No.0016

Executive Standard: Q/HX03

Supervised Manufacturer: HUIYISHENG (Beijing) Biotechnology Co., Ltd.



4
YRS
Shenyang Huimeiren Biological Products Co.,Ltd
China
Favorites