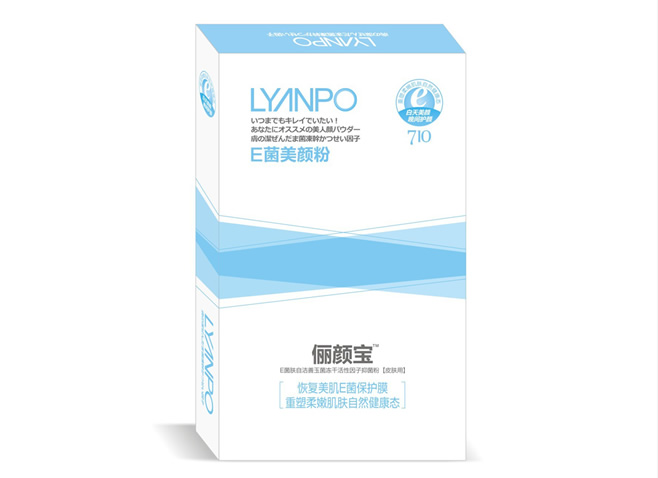 Add to Favorites
Share
Probiotics for Skin Whitening
Payment

Origin

China Mainland

Minimum Order

5

Packing

Pieces
Product Detail
LYANPO

RESTORE BENEFICIAL BACTERIAL COATING OF BEAUTIFUL SKIN

REBUILD NATURAL HEALTHY STATE OF BABY SKIN

SPECIFICATION OF LYANPO

Active Freeze-Drying Probiotics Powder (For Skin Use)

This product is by directly adding a large amount of active freeze-drying beneficial bacteria to facial skin surface, fixes the damage of facial beneficial bacterial coating caused by long term using make-ups, rebuilds the natural beneficial bacterial coating as a protective barrier, efficiently isolates the damage of skin surface caused by the daily make-ups, air contamination and harmful bacteria, restores natural healthy state of facial skin.

Product Name: LYANPO (For Skin Use)

Effective Components: Active Freeze-Drying Probiotics and Lactobacillus

Type and Property: Content is Ivory Powder

Effective Content: Total Amount of Active Lactobacillus (cfu/g) =106

Categories of Controlled and killed Microorganisms: This Product has Inhibiting Effect for Escherichia Coli, Candida Albicans and Staphylococcus Aureus.

Scopes of Application: This Product is Suitable for Any Types of Skins.

Methods of Application: For External Use. Do Not Swallow. Use One Bag Per Night. After Washing Face, Put this Product's Powder Contents in your hand and Mix with a little bit Water together until Feeling the Mixture is Smooth. Smear this Mixture on your Face and Massage for 2~3mins, then Wash Your Face.

Matters Need Attention: - Do Not Use Antibiotics with This Product Together. If Needs, can Use Separately with Different Times. - After Using Every Time, Do Not Keep the Residue for Next Time Using in case the Probiotic Contents Lose Activity. - For the Facial Area after Using this Product, will feel Sharp Pain Slightly, Scorching Hot and Reddish, but these are all Normal Reactions. The Above Symptoms will be gone soon.

Side Effects: Not Found Yet

Dosage Form: Powder

Specs: 0.6g/Bag, 30 Bags/Box

Storage Method: Stay in Cool and Dry Place, Avoid Direct Sunlight, Keep the Product Sealed.

Period of Validity: 24 Months

Hygienic License Number: LWXZZ[2013]No.0032

Executive Standard: Q/HMR03

Manufacturing Enterprise: Shenyang Hui Mei Ren Biological Products Co., Ltd.



4
YRS
Shenyang Huimeiren Biological Products Co.,Ltd
China
Favorites